The GREEN PARTY OF THE U. S. NATIONAL WOMEN'S CAUCUS works to organize and advance Women's rights and concerns within the Green Party and the nation. Our goals are to maximize the Women's vote for the Green Party, the participation of Women at all levels of the Party and create a voter, activist, leadership, candidate, and officeholder base of Women that is reflective of the great diversity of this nation.
Green Party Platform on Women's Rights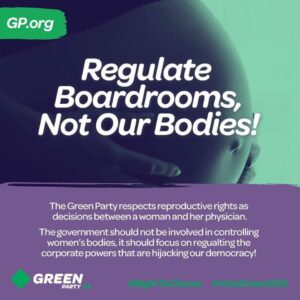 The Green Party deplores the system of male domination, known as patriarchy, in all its forms, both subtle and overt — from oppression, inequality, and discrimination to all forms of violence against women. In keeping with the Green Key Values of diversity, social justice and feminism, we support full legal and political equality for all persons regardless of sex, gender, sexual orientation, or gender identity, characteristics, and expression.
Read the full Green Party of the U.S. platform .
Read the Green Party of the U.S. social justice platform .
The Green Party affirms the right of all persons to self-determination with regard to gender identity and sex. We affirm the right of choosing non-binary and gender fluid identification. We therefore support the right of individuals to be free from coercion and involuntary assignment of gender or sex. Our full platform is here [https://www.gp.org/platform].
The Green Party is part of a global Green movement that shares key values, including Peace and Non-Violence, Ecological Wisdom, Grassroots Democracy, and Social Justice. If you are interested in joining the Green Party, click here [https://www.gp.org/state_parties] to find your state party and information about registering.
Currently we have more than 100 elected officials around the country, mostly at the municipal level, working to enact Green policies. We run many candidates who put Green issues on the table in elections at every level. If you are interested in running for office in 2021, click here for more information [https://www.gp.org/run].