Running for Change: Perspectives from Women Candidates, hosted by Jill Stein ~ July 23, 2022
Past and present Green Party women candidates offer their perspective on the importance of running for office and how the experience has informed their political work. Discussion centered around electoral barriers women face and offer insights on strategies to address them. The candidates provided unique insights into the special challenges women candidates face and shared their collective knowledge to inspire participants to run themselves and former candidates to run again.
Jill Stein (host) – 2012 and 2016 Green Party presidential nominee
Michelle Louise Bicking – Candidate for Governor of Connecticut
Robin Harris – Candidate for Florida State Representative,District 41
Pat LaMarche – 2004 Green Party vice-presidential nominee
Gloria Mattera – Candidate for Lieutenant Governor of New York
Laura Wells – Candidate for California Controller
Meet and Support Green Party Women Candidates!
(Posting of Green Party women candidates does not imply endorsement.)
2022
CALIFORNIA
Veronika Fimbres,
Candidate for Insurance Commissioner
Interview with Calexit on 2/13/22
If you can, and wish to support the campaign, feel free to donate here
Laura Wells, Candidate for Controller 2022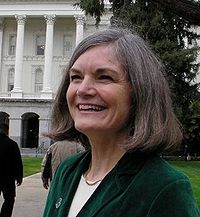 There are some very basic things we should have.  We know we could have better, happier, and healthier lives for our families and the generations to come, but not while the billionaires and their corporations run the country. My campaign supports many more issues than this list, and each one is as important as the other… Because they are all connected! And so  are ALL OF THE SOLUTIONS.
You can support Laura's campaign with a donation here.
MAINE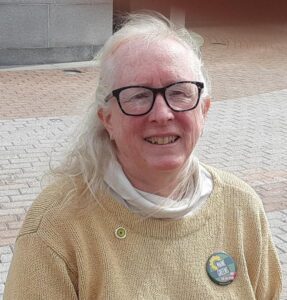 Betsy Garrold,
Candidate for Maine Legislature
Heather "Betsy" Garrold announces run for state legislature
A Maine Green Independent Party Co-Chair for several years, Garrold first ran for the Legislature in 2002. In 2006 she worked across party lines as an active campaigner in both Pat LaMarche's Gubernatorial campaign as a Green and Jean Hay Bright's Democratic race for U.S. Senate. In 2016 she was the ground campaign director for New England and Delaware for the Jill Stein for President campaign.
TEXAS
Delilah Barrios, Governor of Texas (donation options on home page)
No matter where I live or ever plan to live, the fight for sustainability and environmental justice will remain. I aim to be on the side of humanity and reason to protect what natural habitats we have left. Always on the side of the oppressed, never the oppressor. In my time as a medical worker, I have seen the effects of lack of healthcare. We have been needing a public option since I was born and we are no further providing better quality of life for people and we must. It is morally irresponsible to continue to subject people to predatory capitalism and for profit health insurance. I will fight for Medicare for All, I will fight for equality and justice. I am a working class, woman of color, mother of three beautiful children. This fight is not just about me or you, it is about all of us.